p r e s e n t s::

Carl Cox - UK
DJ / Producer / Remixer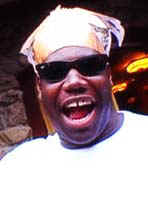 At the end of the cliché...
A legend. Put simply, DJ Carl Cox is nothing less than a full-blown, crowd loving, honest, caring larger than life DJ´ing

legend. Chances are, if you've paid even the slightest attention to the lifestyles and counter cultures of the post Acid house youth , if you've been awake and up for dancing in the last ten years, this man will have touched your life somehow.
You may remember him as the man who pioneered the concept of three deck mixing, elevating the DJ to the role of sonic manipulator extraordinary. Or as the Technics maestro whose every gig in those heady late eighties epitomized the care free torrential spirit of rave. You might even have stood, awe-struck and dawn-kissed, with 15.000 others in a field at some sunrise or biology rave, wondering if what you were hearing could really for real. Alternatively, you might have seen him on Top of the pops back in 1992/´93 or on The Big Breakfast in 1996. Who knows, perhaps you've even heard one of his set recently, answer from Aberdeen to Zurich, Manchester to Melbourne, and felt this incredible turbo rush crowd energy as chants of Coxy, Coxy greeted his entry like some homecoming astronaut getting the ticker tape treatment down 5th Avenue. Maybe you've just noticed that in a world where the Super DJ is as blandly ubiquitous as the Super model, one name keeps cropping up time and time again at the top of every readers´poll hat counts: Carl Cox. The living embodiment of the perfect gentleman, the DJ diplomat and progressive music pioneer, Carl Cox is much loved living legend. And he is also very much so one of us.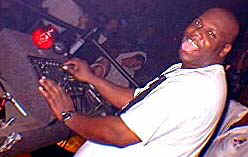 Born in Manchester 34 years ago, his parents had come to Britain from Barbados. The Jamaican islands party ethos has unquestionably shaped Cox´s popularity. As he ones noted, I've never been into reggae. Where I m from, its all happier calypso. They call it Jump Up music. I've never seen sad faces or moodiness out there. I´d like to think its the same when I m DJ-ing. Ask anyone from Liverpool's Cream to Glasgow's Slam, and they'll tell you - Carl Cox always plays for his crowd. No annually retentive inverse snobbery here. When you listen to Carl Cox, its all about inclusion , joining in, not feeling left out. Taking Techno to the masses. Its a vibe that harks back to all those abandoned rave ideals of positively and coming together.
Part of his popularity undoubtedly comes from his experience. Growing up in a Manchester household where music was all, Cox was buying soil and funk records before he was 10, had his own decks before his 15th birthday and was being booked for parties within six months. The son of a bus driver father and maternity nurse mother, it was also this passion for music that saved him from fading out on the wrong side of the tracks. Something of teenage tearaway, a short spell inside a detention center soon sorted him out. He knew his priority. In 1986, he moved to Brighton, slipped easily into South Coasts vibrant pre-house scene, and had swiftly made his mark. But, like so many of his contemporaries, it was inevitably acid house that changed his life.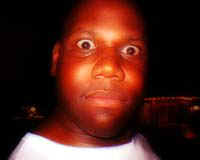 His pedigree is impeccable. Carl Cox was there at all the crucial moments: playing the opening night of Shoom, running The Project night with Paul Okenfold, a residency at Brighton´s ZAP club as well numerous orbital parties and illegal warehouse bashes during 1988/´89´s Summer Of Love. Throughout the late Eighties and early Nineties, his ethos ( as now ) was to play anywhere that would have him and if they didn't think they liked his music, then he'd just work all the harder to get that appreciation. Combined with his dexterity on the decks, and his ( then unusual ) ability to mix simultaneously on three decks rather than the regulation two, it wasn't long before Carl Cox had entered the rave pantheon. Such was the reverence that would greet the very mention of his name, an apocryphal story began to circulate that was a full blown urban myth before long: there was, it was said, a DJ mix tape done by Carl Cox at seven in the morning after a hard nights DJ slog, where not only was he mixing up on three decks, but you could also hear hear him in the background cooking a fried breakfast at the same time !
I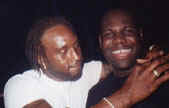 t was also a time of fame for his production work. Signing an unheralded long term deal with Oakenfold´s Perfecto, his first single I Want You debuted at 23 in the charts in 1992, while its follow up Does It Feel Good To You also went top forty. Remix work flooded in. Never one to eschew taking his uncompromising sound to a new audience , his Carl Cox concept appeared on the Radio 1 Roadshow. And in an effort to look after both those who'd helped him get where he was and also the talent of the future, he set up his now international DJ-Agency, Ultimate.
But these were also times of fragmentation in the dance scene. Dance Music had splintered off into a thousand sub-genres:

garage, house, Techno, jungle, rave... and Carl Cox found himself at a cross roads . Increasingly disillusioned with the music on the rave circuit on which he had made his name ( this was the time of Sesame Street , Charlie and Trip to Trumpton, remember ), he was misleadingly tagged as a hard-core DJ, with all the unpleased connotations that description engendered. In fact, as a quick peak at his all time musical faces will tell you, his roots have always been firmly in the world of house and Techno. Opting out of the rave scene, and battling to get his true sets heard in clubs a tenth the size of his former crowds, his integrity and unquenchable spirit saw him through the lean times. Waving the rave good bye, Cox went underground, rediscovering a vitality for smaller clubs and crowds.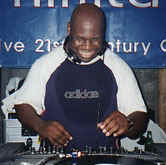 He'd parted ways with Perfecto, and started his own low key imprint, MMR, for cutting edge Techno productions. Thanks to his persistence and incredible vivacity, he found himself ones more welcomed by the very same promoters and clubs who only a year or two beforehand refused to book him. Well, they could hardly refuse now, when every appearance he made would be greeted with enormous crowds, overwhelming cheers and applause and a half-hour of handshakes afterwards. He may have been misunderstood by the industry sometimes, but the ones on the dance floor knew and always have - Carl Cox is one of them. The man that hates to say 1995 was Carl´s comeback year. His mix album F.A.C.T. confirmed his status as a DJ deity selling over 70.000 copies. He was on the cover of Muzik magazine and the clubs coudn´t get enough of him. He was also voted No. 1 DJ at the international Dance Awards. Today, he plays the UK´s biggest clubs( Slam, Cream, Lakota, Ministry of Sound, Club UK ), while 50% of his bookings are now for overseas. His Ultimate Agency, run with his wife Rachel includes such well known artists as Josh Wink, Laurant Garnier, Judge Jules and Luke Slater on its books. Meanwhile, there's his new label, Worldwide Ultimatum, where he'll be investing in the heroes of tomorrow. The worlds busiest DJ too ? Quite possibly.
And now there's his debut album - At the end of the cliché. Far more than just a collection of ultra now dance floor grooves, these tracks are an immaculate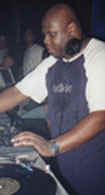 distillation of all Carl Cox´s passions, triumphs, struggles, pasts and optimistic futures. Full of textures that run like serpentine rivers through the history of club music in the Nineties, its an album that confirms Carl Cox´s position as one of the greats. And for all you might want to put him on a pedestal, he'd just as likely step right down again and disappear into the crowd. Where he belongs - as one of us.


The legend continues....
So much has been said about one of the greatest DJ's in the world, but in the past year Cox has propelled himself to even greater heights, redefining his place on musical history once more.
Carl Cox has achieved more successes and attained more goals than any other DJ, yet gain proving that he is one of the hardest working people in the industry. Not content with excelling himself as a DJ, he has developed talents as a producer, artist, remixer, radio DJ, businessman and ambassador for dance music.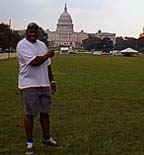 He started the year with the launch of his own " Worldwide Ultimatum " record label, and February saw the release of his debut single for the label. The " Two Paintings And A Drum " EP gave Cox his first chance to really show the world his inner self. " Phoebus Apollo " the lead track from the EP became a hit, reaching number 23 in the UK charts and regularly rocked dance floors worldwide, establishing the link between Detroit and Horsham !
His second single " Sensual Sophis-ti-cat / The Player " followed and reached number 24 in the UK charts, firmly securing Cox's place as a serious producer for the future. Hot on the heels of these two successes, he released his long-awaited debut solo album " At The End Of The Cliché' ".
This album was a culmination of influences gained over 18 years experience as a DJ and took him 2 years to complete. It stormed

the national charts attaining a position of number 22 in the album charts and wed a site to Cox that people hadn't expected. For the first time the press and media were forced to swallow a seemingly bitter pill and celebrate the talents of the man that people love.
Last year Cox truly rocked the dancefloors all over the place as he conquered corners of the world previously left untouched. Apart from the usual stomp across Europe which included one of his most memorable gigs, " The Love Parade " in Berlin, where he played to 800,000 people, Cox laid down his musical law to crowds in America, Israel, Australia and most notably South Africa.
Carl Cox's achievements do not stop there. He was awarded the IDA " DJ of the Years " for the second year, Muzik magazine crowned him " DJ of the Year " in their Saints and Sinners awards and he received " best British DJ of the Year " accolades in Scotland, Ireland, Germany and France.

This was followed by the news that he was join the team at London's finest Kiss FM radio station with his own " Ultimate Mix " show on Saturday nights and was later awarded " DJ Mixer of the Year " by listeners. His career as a radio jock is one that is only just beginning !

His management agency " Ultimate Music Management " also blossomed under his watchful eye and has now carved a path that no other agency can follow with the best British and International DJ's and PA's lining up to get on the books. Last year they hooked up with Super club " Cream " to take over Europe with the grueling " Ultimate Cream Tour" starring Carl Cox and show casting other DJ's from the agency and label. Between the agency and the label " Ultimate B.A.S.E. " weekly club night began. Every Thursday night at the Velvet Underground crowds queue to see Carl Cox playing at his only residency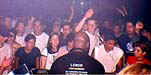 alongside the top guest DJ's from all nations.
So what can we expect in 1997 ?

It will start with a bang, as Cox releases the almighty follow up to his " F.A.C.T. " compilation with " F.A.C.T. 2 " on his own label. This will coincide with the massive " F.A.C.T. 2 Tour " which will see the man steaming up the clubs in UK and Europe before heading to America, Australia, Japan and South Africa. Somewhere in between he will find time to record his second solo album and single releases, remix tracks, produce radio shows, run his club, head both the label and the agency and continue to rock crowds the world over.
The best just keeps getting better !
Please also visit:
www.carlcox.com
ICU would like to thank Carl Cox for his trust and support over the years. - Keep it rocking...