p r e s e n t s::

Doc Martin - USA
DJ / Producer / Remixer
Most of the new breed of jet setting club and rave DJs come from such cities as New York, London a

nd Chicago, but Doc Martin hails from Los Angeles re-presenting the West Coast worldwide.
Doc Martin began his mission on the decks back in the summer of 1986. His focus on house music from the land of funk and disco, was triggered while playing the club and warehouse scene in San Francisco. As one of the major players in laying the foundations of a strong West Coast dance scene, Doc has always been a master of mixing the crowd with the music. Neatly avoiding pigeonholing, while embracing a myriad of different styles, his set creates a warm unique vibe of empathy on the dance floor. Docís legendary 8 hour sets at Flammable Liquid, Sunday Love, to the most underground lofts, and warehouse parties know no colors, age or sexual orientation. Not only does he regularly devastate dance floors in prestigious clubs like New Yorkís Twilo and Liverpoolís Cream, to the smallest loft parties, but he can also send a crowd of ravers into a euphoric groove. Thatís rare these days in a scene where there are sizable walls between the two ends of the dance music spectrum.
While most star DJís are one-note musicians sticking to a single subgenera of music, Docí s live sets bring many styles of music as well as people together. In this age of specialized formats among DJís and producers, what sets Martin apart from his peers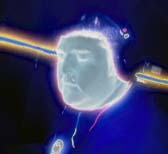 is his ability to spin everything from deep house, acid, funk, tribal, and classics in a set, while having it all make sense. Doc is one of the most sought after DJs in America. Constantly touring, he can be found playing records everywhere from England to New Zealand, and everywhere in between. As the first West Coast DJ to ever hold many residencies in New York, he continues to spread the gospel according to Doc.
Now residing in L.A. he has begun to spread his vibe through making music in the studio as well as playing it. Remixing The Mighty Dub Katz projects for Nervous Records, as well as original tracks for Moonshine, Shaboom, 99 North, and the ever growing Leaf Recordings to name a few.
Docís magic continues to grow, whether it is on the turntables or in the studio. He is a future legend of house and loved by thousands all over the world. Music over hype will always be Docís message of love. There are no stars just dancefloors and the ability to tap into their energies. Open yourself and step into his world.
This is DOC MARTIN !
PLACES OF TRAVEL
* Australia * Belgium * Brazil * Canada * China * England * France * Germany * Italy * Ireland * Japan * Mexico * New Zealand * Netherlands * Portugal * Scotland * Singapore * Spain *ÖÖÖ. The World
CLUBS
Back 2 Basics
Cream
Ministry of Sound
LOGIC
Lakota
Ultimate Base
Full Circle
Sound Factory
Roxy
Twilo
Zouk
Yellow
Shelter
Chemistry
DISCOGRAPHY
| | | |
| --- | --- | --- |
| Docís Daily Funk | People Together | Groovilicious |
| Discfunktional | Free | Moonshine |
| Blackdoktor | Lunatix | Moonshine |
| Doctor Dub | Unification | Imperial Dub |
| DJ Sneak/Doc Martin | Set Me Free | Double Platinum |
| Discfunktional | L.O.V.E. | Moonshine |
| Blackdoktor | I Believe So strong(orig.) | Shaboom |
| Blackdoktor | I Believe So Strong(rmx.) | Moonshine |
| Doc + Buck | Living Room Chron.Vol.2 | Leaf |
| Doc Martin | Never | Shaboom |
| Doc Ximbi | African American | 99 North |
| Blakdoktor | Deep Sea Empathy | White Label |
REMIXES
| | | |
| --- | --- | --- |
| Messiah | I Feel Love | Def America |
| Sweet Drop | Hallelujah | Groovilius |
| Mighty Dub Katz | Itís jut another groove | Smile |
| Progression | I believe | Nervous |
| Shaboom | Totally | Shaboom |
| Faith Healer | Wicked Vibes | Rampant |
CD-Mix Compilations
| | | |
| --- | --- | --- |
| Doc Martin | United DJís of America | DMC |
| Doc Martin | Unlock your mind | Moonshine |
| Doc Martin | History of House | Mastertone |
| Doc Martin | URB Mix Volume 1 | URB |
Facts + Information
Has been known to play up to 28 days straight
Has over 1,300,000 frequent flier miles
The only DJ from the West Coast to have held numerous residencies in New York ( Roxy, Twilo, Tunnel )
Has played on tours with Grace Jones, Dee-lite, Cream, Prodigy, Timothy Leary, Moby, Dajae, Electric Highway tour, Dubtribe etc.
Has been voted in the top 20 DJís in the world by Details magazine.
Known in the US and Canada for being able to hold a dancefloor for 6-8 hours.
Has his own Friday night radio show on Groove Radio FM 103.1
©ģ, ICUô1993-2005, ICU, International Club Union, ICU Records, ICU Media, icurecords.com, icumedia.com, icuwin.com, icufuture.com, icumovie.com, icubeauty.com, raveusa.com, icushop.com, icupictures.com, icuradio.com, icufashion.com, icumodels.com, ravecity.com, icuplayer.com, ravetv.com, icupromo.net, Clubnights, Generation Trance, Global Hardhouse are used by ICU and registered or pending trademark/service marks.
All right reserved.