p r e s e n t s::
ICU Session:: TWO
mixed by Eddie Amador - USA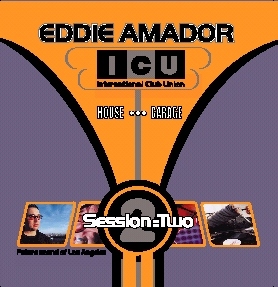 * America's best selling DJ Mix Compilation Series
International Club Union - Session:: TWO
14 hits - 74 min of Pure House Music Pleasure
continuously mixed by world famous DJ/Prodcuer/Remixer Eddie Amador
::SONG - Artist-Label::
including Hits like:
House Music - Eddie Amador - Unreleased '99 Remix
I Need Somebody New - Althea McQueen - Doc Martin Remix
Sweetest Day of May - Harambee - Joe T.Vannelli Remix
Rollercoaster - DJ Linus - US 99' Remix
Play With the Voice - Csilla - Joe T. Vannelli '99 Remix
Deep Love - Island Groove feat. Keith Thompson
and many more...
EDDIE AMADOR - Biography
Eddie Amador started his DJ career in the late 80's following the typical R&B/HipHop progression into Disco and early House. He soon discovered his love and dedication was House music.
Eddie, originally from Phoenix, AZ decided in 1997 to move to Los Angeles to expand his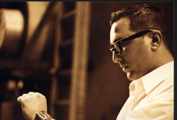 now growing success. His resent club anthem "House Music" was licensed in four continents, becoming a #1 hit in 12 countries . This was also his break-though to international recognition as a producer, remixer and DJ. Demand for his refined production, remixing and DJ skills have kept him consistently touring for over 5 years, acquiring a massive worldwide audience in the process. Playing frequently at clubs such as Ministry of Sound/UK, High Society of House/Switzerland, KW Kraftwerk/Germany are confirming his stature as a DJ. Eddie Amador's recent residency at the infamous Los Angeles Sunday club "DeLuXe" has further added to his reputation. He was also chosen to mix the second of ICU's legendary DJ Mix series. Eddie's motto is: "If you are true true to what you believe in, success will eventually follow". This has certainly been proven true for this rising star.
(Click here) to listen to ICU Session:: TWO mixed by Eddie Amador
Requires Real G2 Player